Outside the body gold beautiful, the body inside the pipeline neat dense.All 20 buildings are 3D printed, the highest is 4.2 meters in Shanghai center, and all architectural patterns are reproduced in detail.On October 1, during the mass parade to celebrate the 70th anniversary of the founding of the People's Republic of China, a huge golden ship with 10,000 tons of blessings from the Shanghai people slowly passed tian 'anmen square, the site of the first congress of the communist party of China, the free trade zone, and lujiazui.The new image of Shanghai in the new era has left a deep impression on people all over the country.
Now, "endeavour Shanghai" float in the successful completion of the 70th birthday of the new China after the task of honor returned, will be on October 15 solstice November 14 in the Shanghai international conference center to the public display, display time for the daily 9 o 'clock to 21 o 'clock. "Endeavour Shanghai" float, 15 meters long, 6 meters wide, 10 meters high, to the ten thousand tons of giant ship as the main shape, shows the Shanghai set sail with the vigorous vitality and firm determination, to be "reform and opening up vanguard, innovation and development pioneer" ambitious ambition.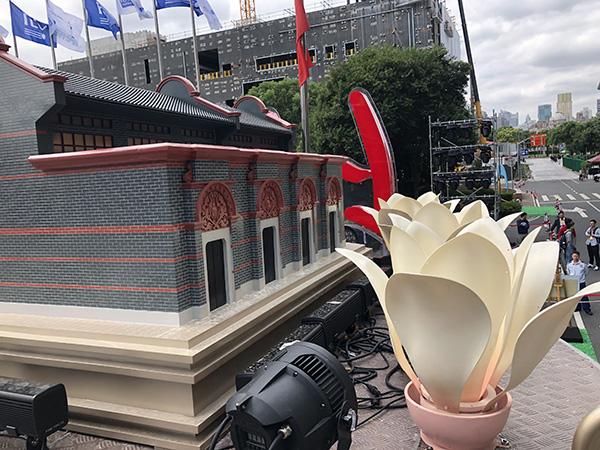 The word "Shanghai" on the front of the ship echoes the site of the first congress of the communist party of China on the foredeck. It means that Shanghai will start from the red starting point and forge ahead courageously along the correct course guided by the party to brave the wind and waves and forge ahead courageously. Above the bow, a large C919 plane rises into the air, which represents the new development and new driving force of Shanghai in the new era.
Behind the haiyan-shaped door of Shanghai free trade zone, there is an energy tunnel full of speed and passion, which expresses the development of Shanghai in the past ten years as if it were on the fast track. Above the tunnel, 16 urban landscape buildings made by the latest 3D printing technology shine in the sunlight. The high and low urban skyline, together with the large meeting site, constitute the historical height and realistic height of the city.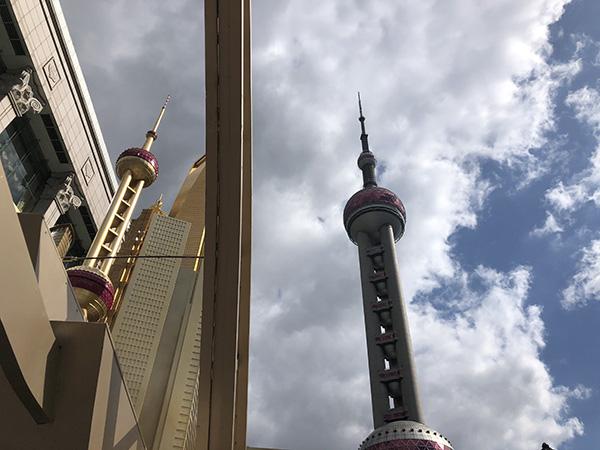 On the left is the body 3D printed Oriental pearl, on the right is the real Oriental pearl
At the stern of the ship is a ribbon connecting three visual elements, namely the China pavilion, the Shanghai light source and the international exhibition center, which shows the city's construction concept of "opening up to promote cooperation and seeking development through innovation" and expresses the great achievements of the city's development in the past ten years from the world expo to the world expo.